Clear vision.
The design of the Lhuna app honours the principle 'less is more'. Design decisions are considered carefully and aimed at keeping a pure and clear overall concept. A clean interface and intuitive approach make a happy user.
Securily stored online data.
Enjoy the convenience of accessing your business information from where you are at all times, without worries about it's safety and integrity.
Access to a Lhuna account is secured through email login with password. Passwords are stored with secure cryptographic hashing.
Account data, entered using the Lhuna app, are stored in a Microsoft Azure database, offering advanced protection. Each account has its own database. The Azure database has standard high availability. Automated geo-redundant backups are kept for a period of 7 days, allowing for recovery in case of disaster or accidental data corruption.
When data is transferred over the internet, it is encrypted using the secure https protocol.
Your data is yours. It is safeguarded and your privacy is respected and protected. You can read more about how data is treated in the Lhuna Terms of Service Data Confidentiality section and in the Privacy Statement.
The Lhuna app itself is hosted on Azure as well, secure and available 99.95% of the time. Maintenance and update of the app are organized to pass with the least possible disruption.

Use on any device.
The Lhuna app has been designed for optimal behaviour both on large screens and on small screens. You can work comfortably on a large-screen desktop or laptop in the office or at home, and you can equally well access projects from your tablet or smartphone. On a desktop or laptop, layout is adjusted to make good use of the extra space. On tablet or phone, a more compact layout allows to efficiently access all functionality and easily read information, without having to zoom or scroll sideways.

On small screens, a split view is used, composed of two collapsible parts. It helps the user to focus without losing sight of the big picture. From a detail view, the user can slide down an overview screen, or, from the overview, switch back to the details. Focusing in and out occurs automatically while performing actions.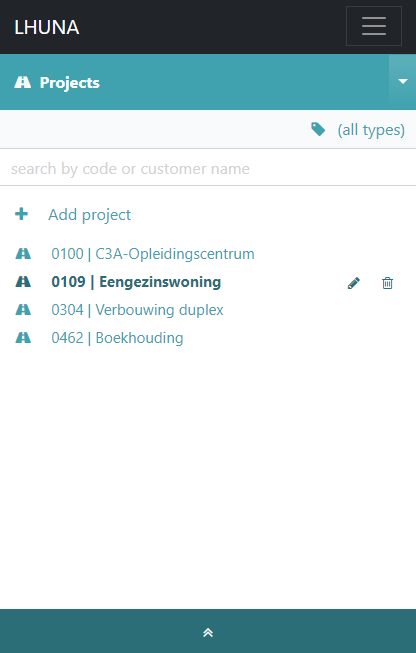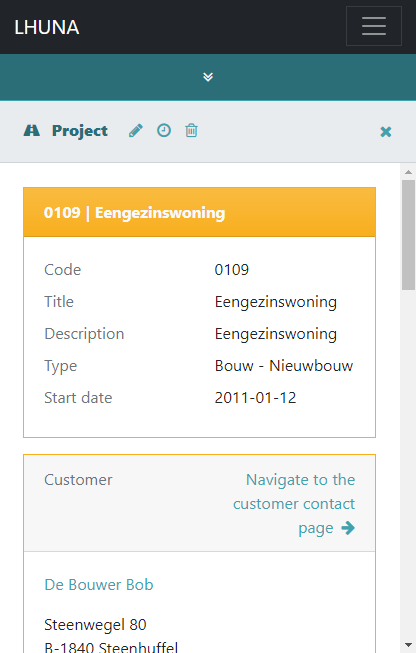 While tracking time on a mobile device, you easily switch between calendar overview and performance entry screen.